Clever & Unique Bookmark Ideas for Business
News and Media
Industry news.
Clever & Unique Bookmark Ideas for Business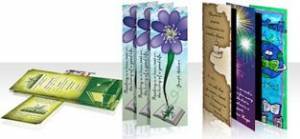 Book publishing may have gotten tackled by the ebook market, but make no mistake, there are still opportunities for getting your business name out there using printed bookmarks! By no means have printing companies gone out of business. People still like to feel and hold traditional books and various other print products made from real paper. College & School text books are still being printed. Businesses are still developing brochures and catalogs. Employees are still using notebooks, notepads, & day planners, etc. Trade show exhibitions are still handing out good 'Ol Fashion print literature! Some people learn better by seeing and feeling. They just have a need to touch, they learn better that way. Where it seems that technology has taken over, we actually find that life is still being balanced by tangible & professional print products.
Order Bookmarks Online - Business Bookmark Printing
But how can bookmarks help business you ask? Bookmarks can function as a unique flyer in addition to its traditional use. Bookmarks can also be linked to achievement or intelligence making them fabulous marketing tools.
2-in-1 Bookmarks
Nowadays bookmarks do more than just hold a spot in a book. Here are a few marketing ideas to personalize your bookmarks and help stimulate your own creative business bookmark designs:
Holiday Bookmark -
Show your Holiday cheer with a folded bookmark gift tag. Send a special note for Christmas, Thanksgiving, or New Year's etc. By including this inexpensive marketing tool with your client's order, they can continually use and appreciate this gift of gratitude. Your business bookmark serves as a tiny constant reminder of your happy relationship or partnership with your clients and even employees.
Business Card Bookmark -
How about marketing your business in a more creative and lasting way? What a perfect way to leave behind your business card! With just the right amount of space to get a quick message or promotion out while also further imprinting your brand / logo. What a useful marketing tool! You could also make the business card portion a tear card with a magnetic backing to be kept around advertising your company in a separate place to the bookmark advertising.
Encouraging Bookmark -
Reward employees with an inexpensive but inspiring gift - a bookmark full of positive messages. Help reduce stress in the work place, have a little fun, and give an incentive to be nice everyday!
Coupon Bookmark -
Create your bookmark to double as a coupon (either the whole thing or tear away / tear card section at one end).
Mini-newsletter Bookmark -
Bundle some tips or promotional news onto a bookmark each month and mass mail out with your monthly newsletter or invoices to your clients.
Partnership Bookmark -
Team up with another local business to cut costs and share each other's distribution lists. Print your message on one side and theirs on the other. Strategically partner up with a business that compliments your business (such as online comic book design and comic book printing or bouncy house indoor playground facility with a kids toy store).
QR Code Bookmark -
Tie in your print marketing with your web marketing by incorporating a QR code into the design of your bookmark. You will certainly appear important & technologically advanced - your existing and or future clients will be impressed!
Bookmark Design Tips -
- Make your bookmark entertaining and beautiful - worth keeping!
- Include your brand but keep your message simple and clever- memorable.
- Typical size is 7.25 x 2 inches.
- Remember to use both sides.
- Use heavy card stock and laminate your bookmarks so they last longer.
- Personalize with a hand written note or signature.
Now that you are fueled with some unique business bookmark ideas, go out there and make use of this wonderfully inexpensive print marketing tool!
Need help with design? Contact us here at AbsoluteColor.com!
Order Bookmarks Online - Bookmark Printing
Related Posts