Impress Clients With Custom Designed Pocket Folders
News and Media
Industry news.
Impress Clients With Custom Designed Pocket Folders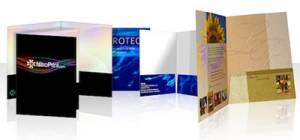 When it comes to marketing and branding in the modern day business world, only the most innovative ideas catch on. The contemporary client is picky, and in order to connect with them, you need to think out of the box. The days when you could rely on print media to increase visibility of your brand are long gone and today you have to let your creative juices flow in order to captivate potential clients.
A study by American Marketing Association (AMA) published on Business Insider shows that over 96% of the Fortune 500 brands use pocket folders as a branding tool.
Today a presentation folder is much more than an informational booklet. The modern folders come with a pocket thus fusing functionality with aesthetics. This is an integral branding tool because it comes with your color themes, company logo and additional information that gives an outline of what your business offers.
To fully appreciate the reason this is gradually becoming the ultimate branding tool, it is important to assess some of the factors that are making this pocket folder so ideal in modern day marketing. Here are some ideas.
1. Versatility of Pocket Folders
Whether you want to communicate to employees or you want different departments to understand each other, a custom pocket folder is the ideal tool. By printing information on the top cover and within the pages, you will help improve efficiency in the company. Everyone will be on the same page once they read what is included on the pages.
Moreover, you can also utilize this as a client-information tool. Take for instance if you have a shareholders meeting. By printing custom pocket folders containing invaluable details, you will easily communicate with these stakeholders. This keepsake can also be used as a marketing tool during company events and shows when it is handed out to visitors who come to your stand.
2. Right Impression with Pocket Folders
One quality that a branding tool must offer is the power to give the right impression. As a business owner, you appreciate your niche is crowded and in order to stand out, you have to go beyond the obvious. These printed materials in a nicely designed pocket folder can be used to set your company apart from the crowd. By using beautiful full-color graphics, colors and unique styles, you will dazzle your clients and they will wish to associate with your brand even more.
3. Building Your Brand Seamlessly with Pocket Folders
Branding is one of the most arduous tasks for marketing managers. In order to make your company's name ring a bell any time a potential customer comes across it, you can use a custom pocket folder.
Whether you are a restaurant or a financial institution, this versatile tool is essential if you want to enhance visibility. Take for instance if there is a business event in your city and you come up with unique reinforced products bearing your corporate logo, vision, company introduction and services you offer. As visitors pass by your booth, you can hand out the pocket folder and within no time your brand will be circulating freely among the event goers.
4. Functionality of Pocket Folders
A custom pocket folder is an ideal tool for your employees especially when they go to the field. The pockets can easily hold business cards, USD Flash drives, documents and other things you need to make a presentation. It helps your staff to be organized and can indeed enhance their productivity as they have all their tools in order.
5. Flexibility of Pocket Folders
Every company has its own unique range of products and services. As such, marketing and branding needs do vary and this is where this customized pocket folder comes in handy. Let Absolute Color work with you to design your own folder depending on the size you require, style and colors.
Whatever you do, make sure you come up with the most eye-catching design for your pocket folder. You can even enlist services of a professional in order to make your folder authentic and highly engrossing. Order your custom pocket folder with Absolute Color today!