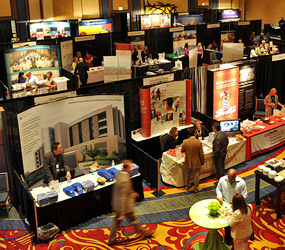 Absolute Color is located just minutes from the George R. Brown, Reliant Center, and other major convention and trade show facilities in Houston, Texas. We realize the importance of having quality printing services available for these shows so Absolute Color implemented a comprehensive set of printing services to meet the needs of all convention and trade show attendees. Our 30 year history and state-of-the-art printing facility allows for quick turnaround times and unmatched capabilities suited to meet the needs of both large and small exhibitors. Absolute Color also provides FREE delivery to all convention halls in the Houston area.
If you're traveling to Houston for a convention or trade show, you may find that you forgot some important displays or need some quick prints laminated and mounted. Absolute Color caters to the ever growing convention circuit in Houston, Texas for all your printing services and supplies. Offering emergency printing services and fast turn around times followed by direct delivery to your convention booth or hotel, Absolute Color can help ensure that your convention appearance will be a success.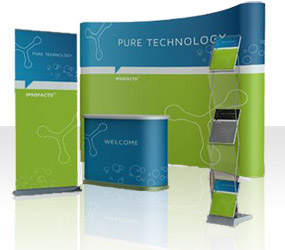 Absolute Color guarantees 100% satisfaction to all visiting exhibitors to make sure you get the printing you need when you need it. Unlike other convention and trade show printing services, we are the actual printer who performs the work. All our printing is performed in-house and processed with optimum quality control and speed to get the job off the press and into your exhibit booth. Our trained convention and trade show experts know how to handle all situations including tough turn-around or delivery times, late night projects, various sizes and custom shapes - We make the impossible, possible!
Contact us directly or request a quote online for your convention and trade show exhibit printing needs. Absolute Color wants to make sure your convention exhibit in Houston, Texas is a success!
Absolute Color - Houston Trade Show and Convention Printing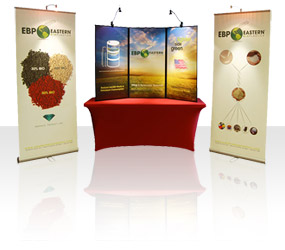 Since Absolute Color's printing facility is based in Houston, it only makes sense that we specialize in meetings, convention and trade show printing services. With over 30 years of experience in the printing industry, we understand that there are no second chances when it comes to printing services for meetings and events. We excel at providing convention printing and signage services that are done right and on time – each and every time!
Why customers choose Absolute Color for their convention and trade show printing projects:
We are conveniently located just a few miles from all the convention and trade show facilities in Houston and surrounding areas.


We provide FREE delivery to any of the Houston convention facilities or to your hotel. We also offer next day or same day delivery services.


We offer affordable pricing, fast turnaround and an easy-to-use online ordering system. If you prefer to speak to someone directly, you can reach us by phone at: 713-996-0202.


If you need to make last minute printing changes, forgot to print something, need better pricing or maybe your printing projects were not completed in time for your event, no problem! Since we're based in Houston, we can handle your convention printing needs and deliver them directly to you at any of the Houston convention venues - saving you time, money and stress!


Need something printed fast? Rush jobs are our specialty! Our Digital Printing Department can have your collaterals ready the same day. All types of printing projects, including color copies, black and white copies, 3-ring binders, spiral bound folders, tabs, flyers, postcards, business cards and more!


Forgot to print those important flyers? Order your flyers for same or next day delivery. It's that easy!


Need more program presentation folders? Allow us to make color or black and white copies with spiral coil or 3-ring binding, tabs, and various other presentation folder options.


In need of a last-minute banner or poster for your exhibit? They can be ready the same day! Our large format department can produce vinyl banners or posters for your large format printing needs.
Absolute Color genuinely cares about our convention and trade show exhibitors and go above and beyond to provide the best customer support possible, while providing top quality printing at a great value. Contact us today for your convention and trade show printing needs. We look forward to making your trade show appearance a success!